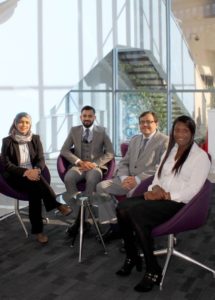 Harris Accountancy Services Ltd are CIC accountants. We specialise in working with other CICs, social enterprises and charities.
We have expertise in accounting issues for CICs, social enterprises and charities including:
Understanding of grant treatment for tax purposes
Knowledge of social impact and Social Return on Investment (SROI) reporting
Investment options and tax reliefs available including Social Investment Tax Relief, Seed EIS and EIS
The importance of building financial sustainability for your organisation
Day to day issues CICs, social enterprises and charities face
We were set up in 2008, and have grown from a Birmingham based firm to become recognised nationally as a specialist accountancy firm working with social enterprises, CICs and charities, and now have clients all across the country, as well as in Wales and Scotland.
We deliver our services in order to generate surpluses for local charities working with young people and to support young people to train as accountants.
What We Offer
Here are a few questions for you to consider:
Do my current financial management systems help me to make effective decisions?
Does my accountant understand what a social enterprise or Community Interest Company is?
What effect does social return and impact reporting have on my business' or organisations' financial management?
What are the key issues that may financially affect my enterprise?
Does my accountant offer inclusive packages for fixed monthly fees so I know exactly how much I'm spending?
Can my accountant help me to set up finance systems to save me time and money?
The Harris Difference
We at Harris Accountancy Services understand the issues and challenges small businesses and social enterprises face. We understand the terminology and industry keywords which we all use on a daily basis.
We pride ourselves on:
Knowing what it means for an organisation to have a "Social Purpose"
Understanding and managing the differences between "Restricted" and "Unrestricted" funds
Understanding the importance of social value including "Impact Reporting" and "Social Return On Investment"
Being aware of the Key issues affecting social enterprises and small businesses