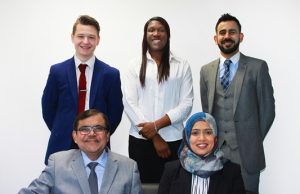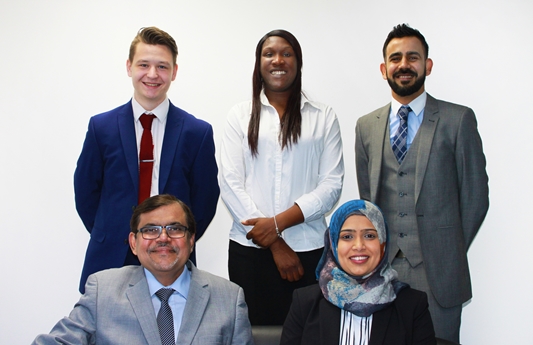 We provide our specialist accountancy services to social enterprises, Community Interest Companies (CICs) charities and voluntary organisations. Our staff team all have expertise in working with these types of organisations, as well as working with sole traders/self employed individuals and small businesses.
Currently, Harris Accountancy has four full-time members of staff, as well as part time book-keepers and consultants.
Shaziya Somji (ACCA)
Managing Director
Shaziya has been managing Harris Accountancy Services Limited since 2016. She has been working closely with the third sector since 2009 after qualifying as a Chartered Certified Accountant in 2008.
Shaziya is very passionate about working with social enterprises, CICs and charities and has vast experience in assisting social enterprises, charities and SMEs in managing their financial and tax matters. Shaziya specialises in VAT, tax and business planning.
……………………………………………………………………………
Sajjad Bandali (FCCA)
Director
Sajjad is life-long enthusiast of charities and has been a director of Harris Accountancy since 2016. Apart from international qualifications such as CPA (Tanzania), Sajjad is also qualified a Chartered Certified Accountant with ACCA, practising since 2008.
His long career in finance includes managing UK charities as well as experience in managing his accountancy practice overseas. Sajjad has been key to his previous employers shaping their financial structures while assisting in management accounts, payroll, year-end accounts and tax issues.
……………………………………………………………………………
Mohammed Jaffer (BA Hons)
Accounts Manager
Mohammed is a part-qualified Chartered Accountant working with Harris Accountancy since 2014, and graduated from Coventry University with a BA Hons in Accounting and Finance. He has gained experience in the third sector and seeking to develop further by qualifying as a Chartered Accountant.
Mohammed specialises in payroll, with vast experience in working with CICs and start-ups assisting them with business and tax enquiries. He has worked with various organisations preparing quarterly VAT returns and year-end Accounts. Mohammed is also devoted to volunteer for his community, being part of a youth organisation. As part of the team, Mohamed has shared his experience with apprentices.
……………………………………………………………………………
Lewis Formon
Senior Accountant
Lewis is a qualified Chartered Management Accountant, who began his career in 2011 at Harris Accountancy. He has worked extensively with sole traders, CIC's, charities and limited companies. Lewis has further developed his career while working for two global companies in the finance department, directly involved in the production and analysis of management accounts and supporting the businesses towards a sustainable and profitable model.
Lewis returned to Harris Accountancy in November 2017 as senior accountant. Along with specialising in management accounts, he has a great deal of financial accounting and tax knowledge. He has already shown great leadership and organisation skills and is keen to support clients with dedicated services.
……………………………………………………………………………
Tara Tweede-Robinson (AAT)
Credit Controller
Tara has completed her AAT Level 4 qualification at Halesowen College. She is an enthusiastic individual and eager to qualify further towards being a Chartered Accountant. Tara joined Harris Accountancy as a freelancer to assist with credit control and bookkeeping.
She is hardworking, has a professional and positive approach to work with attention to detail. Most of Tara's spare time is taken up by her children's various out-of-school activities. She also enjoys reading, listening to music and attending the gym.
……………………………………………………………………………
Heidi Fisher (FCA)
Consultant and Founder
Heidi is a qualified Chartered accountant, having qualified in 2004. Heidi worked within PwC's Corporate Tax Department whilst training, before running an accountancy practice that specialised in supporting owner managed businesses.
Heidi is also a qualified teacher, trainer and Theta Healer.
Heidi has worked within the charity and social enterprise sector for 15 years, including bid writing, business planning, as well as financial aspects including management accounting, year end accounting, tax planning, investment readiness, social value and Social Return on Investment.